ARUP Laboratories is a national clinical and anatomic pathology reference laboratory and a worldwide leader in innovative laboratory research and development. A nonprofit enterprise of the University of Utah, ARUP offers an extensive test menu of highly complex and unique medical tests.
More about ARUP
In Focus
eSupply Enhancements Include an Online Supply Catalog
Newly added features and enhancements will be available in April and will allow clients to:
• View ARUP provided supplies and detailed supply documentation in eSupply Catalog
• Create a "Shopping List" specific to client needs
• Easily access a dynamic list of the 10 most frequently ordered supplies for client facility
Find out more.
---
A Registry with Free Next Generation Sequencing
The NABER will administer a national voluntary registry of neonates with ABE in the USA over a 36-month period. Qualifying infants will receive 28-gene panel sequencing at no charge.The University of Utah with ARUP Laboratories developed a 28-gene Next Generation Sequencing (NGS) panel to discover underlying genetic contributors to ABE.
Read more here.
---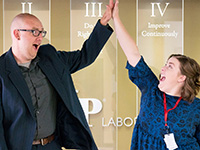 2018 Best Companies to Work For
After ARUP employees responded in numbers far beyond expectations to our employee survey, ARUP became a Utah Business 2018 Best Companies to Work For Winner. We're in good company, too. Find out more here.
---
Paraffin Tissue and Extracted Nucleic Acid Transport Kit
ARUP Laboratories now offers two kits for use when transporting Pathology Consult samples, Paraffin Tissue and Extracted Nucleic Acid samples to us for testing. Read about the transport kits here.
---
ARUP Will No Longer Accept Non-Certified Metals-Free Tubes
In keeping with our mission to provide outstanding patient care, ARUP will no longer accept specimens for metals testing sent in non-certified metals-free tubes, beginning November 12, 2018.Read more here.
---
Example Patient Reports Available in the Laboratory Test Directory
Example patient reports, including enhanced versions of patient reports, can now be found on test pages within the Laboratory Test Directory. This time-saving feature allows you to access the helpful information found in these reports at your convenience rather than contacting Client Services. Click on the links below to view some examples of this feature.
0020694 Copper, Liver
0050249 Enterovirus by PCR
2010095 Herpes Simplex Virus (HSV-1/HSV-2) Subtype by PCR
---
ARUP's new out-of-pocket estimation tool
In the age of precision medicine, genetic testing has become increasingly important in the treatment of patients. ARUP is now offering a free out-of-pocket estimator for some molecular tests to assist our clients in helping their patients understand potential expenses.
Find out more here.
---
QuantiFERON-TB Gold Plus—Update
ARUP is the only reference laboratory that offers QuantiFERON-TB Gold Plus with two blood collection options.
Read more here.
---
New Video Lectures Available for Free CME, SAM, PACE & FL CLS
Updates in Pancreas by Kajsa Affolter, MD
Understanding Quality Control: A Process Improvement Perspective by Robert Schmidt, MD, PhD, MBA, and Lauren N. Pearson, DO, MPH
The End: Challenges in Anal Pathology by Eric A. Swanson, MD
View all available video lectures.